6 Best Planners for College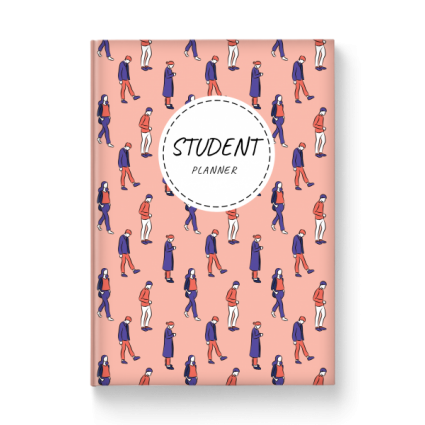 What do you find to be your biggest challenge as a college student? Studying? Working on projects? Keeping up with the class? Doing assignments? Whichever the case may be, you're ultimately looking to have it all together. Of course, there's no doubt that every college student wants to have a super successful academic year — that has been the plan from the start!
But as we know, the road to academic success is not as smooth as we think it to be; there are just so many things to do at a time! Of course, at this point, your best bet is to figure out exactly how to get and stay organized. Because busy students are not always good students. The good time management in college becomes a necessity you're unlikely to succeed without. In essence, you'll want to get your hands on something that can increase your chances of staying productive all day every day.
So what could this be?
Well, for the most part, your journey to the outstanding productivity starts with you making a big switch to analog options (paper planners). In other words, you won't be wrong to ditch the electronic calendars in your phones/laptops and of course, stick to some of the best planners for college students. Yes, the old-fashioned paper planner can make you much more organized than an advanced productivity app.
Why? Because the physical act of writing is all about structuring your thoughts, ideas, and tasks so they become easy to use and execute. Moreover, a planner gives you more room for creativity. That's why so many successful people prefer to use planners and notebooks to write everything down and plan their lives.
And if you're ready to make the big switch to the perfect planner for you; we'll recommend you keep up as we explore our top five picks for 2023 and beyond.
Let's get started!
Custom Built Student Planner

Studying at a high school or college can often be overwhelming. Thankfully, great tools make it much easier to manage your time, stay on schedule and finish your assignments on time.
Meet Custom Built Student Planner that features your personalized design and comes with a bunch of great pages that are made to make you less stressed and more organized.
You can enjoy thick 100gsm paper that works perfectly well with most types of pens and highlighters so you'll never deal with bleeding through or ghosting. The sturdy spiral makes sure the planner doesn't fall apart and lasts as long as you use it.
The pages offers you a great set of tools to get things done including weekly and monthly spreads, project task trackers, blank pages for note-taking etc.
To sum up, a nice planner to help you with your studying.
Pros
You can choose the cover design and dates of the planner
Thick paper
Made of durable materials that will last
Product details
| Number of pages | Paper weight | Cover type | Size |
| --- | --- | --- | --- |
| 226 | 100 gsm | Hardcover | 5.5'' x 8'' |
Blue Sky 2023-2024 Academic Planner
Taking the first place is this well-made option that's sure to surpass your expectations. For the most part, Blue Sky 2023 to 2024 Academic Planner comes with just enough space to keep every information you need in one place. Talk about your to-do list, reminders, appointments and more. Super perfect for your day-to-day planning!
Essentially, this academic planner runs from July 2023 to June 2024. It comes with the full 12 months of monthly and weekly planning. That said, you can rest easy knowing that your college life will be as smooth as can be. It's also good to point out that the planner is printed on premium quality white paper that makes writing a breeze. In essence, you can write down your plans and of course, worry less about ink bleeds and impressions. And lest we forget, Blue Sky Planner beautifully designed inside and out. The exterior of this planner is also worth talking about — it's well-made and durable! All in all, an excellent option that's sure to get the job done.
Pros
Easy to navigate
Beautiful design
High-quality paper
Well-made and durable
Plenty of room for notes
Cons
A few complaints about the bonus pages
Product details
| Number of pages | Paper weight | Cover type | Size |
| --- | --- | --- | --- |
| 192 | 90 gsm | Hardcover | 8.5'' x 11'' |
High School Planner for Academic Year
Next up is this option that's targeted at high school and middle school students. But of course, it's still functional enough for college students. First off, this high-quality planner comes with plenty of room to accommodate your daily school activities. In essence, you'll get to keep track of everything from your assignments to classes to extracurricular activities and more. In fact, the planner has enough pages for day-to-day assignments even when managing multiple classes.
It's also good to know that this great planner makes provision for goal setting. In essence, there's a section where you can write down both your weekly and monthly goals, and work towards achieving every one of them. And to sum it up, we can say that this option really outdid itself — boasting high-quality paper, excellent fonts and a pretty impressive cover design. This daily planner has everything to help you achieve your academic goals next year. It also comes in different colors. And we know that a color variety is also a big plus!
Pros
Enough room to write

Sturdy and well-made

Durable

Comes with resource pages
Product details
| Number of pages | Paper weight | Cover type | Size |
| --- | --- | --- | --- |
| 160 | 90 gsm | Softcover | 8.5'' x 11'' |
Freedom Planner 2023
Want to live an epic and incredibly fulfilled life in school and beyond? Just check out Freedom Planner 2023 — it's perhaps the best day planner you can buy right now! Just as the name implies, Freedom comes with pretty much everything you need to live the super-organized life you've always wanted. As a student who has no choice but to keep up classes, tests, and assignments, you'll find that this great planner is an invaluable tool to have. Dated from January all the way to December 2023, you can get yours today and start scheduling your life to success!
It's good to point out that Freedom Planner has a section for goal setting and even better, there's a place to reflect on those set goals and how you're doing in their pursuit. Besides helping you keep track of your goals and daily schedules, Freedom Planner also offers instructions and inspirational quotes that can keep you in higher positive vibration. The planner is chock full of incredibly positive messages that can eliminate everything from stress, fear, anxiety, and depression in no time. Its size and color option is a huge plus! And to sum it up, Freedom Planner 2023 comes with 100% customer satisfaction guarantee — it's either you love it or get your money back. What more could you ask for?
Pros
Sleek and well-designed

Highly functional — lots of instructions and inspirational quotes

Durable hardcover

Money-back guarantee
Product details
| Number of pages | Paper weight | Cover type | Size |
| --- | --- | --- | --- |
| 192 | 90 gsm | Hardcover | 10'' x 7'' |
Student Planner by The School Planner Company
Next up is this option from School Planner Company — it's simply known as Student Planner. Coming with a pretty straightforward name, you can tell that this product will help you stay organized throughout your academic year. As expected, Student Planner comes with all the space you need to write down assignments and dates (even big project due dates). Of course, the project is also sure to come in handy for jotting down to-dos, ideas, reminders, and the likes.
As with other planners on the list, Student Planner has classic monthly pages dedicated to monthly goals and it even has a customizable attendance tracker! It's also good to know that this option makes provision for future planning. So yes, you can get it today and look forward to living an organized life from August 2023 - July 2024. With the high-quality printing, durable binding and eye-catching design, there's no doubt that this planner is the real deal. Don't hesitate to take the plunge today!
Pros
Beautifully designed

Durable cover

Easy to use

Compact
Product details
| Number of pages | Paper weight | Cover type | Size |
| --- | --- | --- | --- |
| 192 | 90 gsm | Hardcover | 5.5'' x 8.5'' |
Student Planner: Weekly Academic Organizer
Planning your week just got a whole lot easier! With Student Planner: Weekly Academic Organizer, you can schedule your classes and of course, stay on top of things from Monday through Friday. Coming with two pages per week format, this super handy weekly planner has room for assignments, tasks, due dates, thoughts and other things you need to write down. Its weekly pages make your schedule more visual. And this is also worth talking about. Located at the front of the planner, this feature gives you the opportunity to record your class schedule for fall, spring, and summer. Cool right?
We also think it's worth mentioning that the planner is beautifully designed — it comes with a premium matte-finish cover design. What's more, the product comes in a pretty large format, but of course, it's still sure to fit in your backpack with ease. Overall, a great pick that you're sure to love — highly recommended for your academic year!
Pros
Durable cover

High-quality paper

Compact
Product details
| Number of pages | Paper weight | Cover type | Size |
| --- | --- | --- | --- |
| 138 | 90 gsm | Hardcover | 7.5" x 9.2" |
Conclusion
Over the last few years, lots of new and updated planners have hit the market. The biggest trend is simplified planners. Every year the planners indeed become more and more intuitive and easier to use. Moreover, planners also become more and more suitable for a particular user, since they offer different layouts, planning systems, and approaches.  
With all that has been said, you can see that your choices are unlimited! But of course, finding the best planner that's perfect just for you depends on your budget and personal preference.  The good news? Our five top picks are sure to help you get organized and keep track of your day-to-day school activities and make you have a super successful academic year. Don't hesitate to pick the one that holds your fancy. Good luck!