The 7 Best Personal Planners and Calendars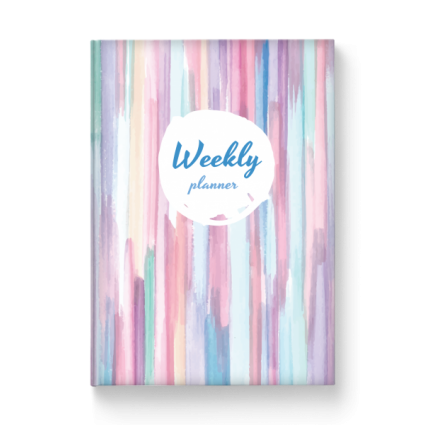 Ever been in a situation where you plan to stay organized or focused on achieving a task or two? If yes, you're not alone — we've all been there! But of course, there's one thing that usually happens along the way; you get distracted by an overwhelming lineup of tasks and responsibilities. In essence, our super busy life never fails to derail us when we try to stick to a particular plan.
The good news? There are quite a few things that can help you keep track of your activities and make your life easier. Instead of relying on just apps and online calendars, we'll recommend you get your hands on the best personal planner money can buy. Trust us; your life can turn out to be more organized with the help of just one neat little book. But of course, it's never a good idea to take the plunge without proper research. In essence, you'll want to take your time to find one that's right for you.
Need a little help?
If yes, this article is just for you! We're going to explore up to five of the best planners that can help you take charge of your life in 2022 and beyond.
Let's get started!
Custom Built Weekly Planner

Looking for a personal planner? The Custom Built Weekly Planner is going to be your best choice.
It provides the opportunity to personalize the content (dates, first day of the week) along with the cover design before placing the order.
The weekly and monthly layouts that you can find on the pages of the planner are designed to make planning, note-taking and goal setting much simpler.
If you love high-quality products, you'll enjoy this one, because it's exceptionally well-made and comes with the full refund guarantee if you are unhappy with the quality.
Overall, this notebook definitely deserves a place on this list as well as your attention.
Pros
You can choose the cover design and dates of the planner
Thick paper
Made of durable materials that will last
Product details
| Number of pages | Paper weight | Cover type | Size |
| --- | --- | --- | --- |
| 146 | 100 gsm | Hardcover | 5.5" X 8" |
Cossac Planner
Coming in a modern and truly elegant design, Cossac Planner is one of the best picks for those who love the idea of planning their tasks and commitments beforehand. This premium quality daily planner comes with just about everything you need to keep your life on the right track — it's sure to help you achieve your goals and at the same time, kick procrastination out of your life. Perhaps the biggest draw of Cossac Planner is its six-month "journal like" feature — it helps you keep everything in place; in essence, you can start planning your day, scheduling important events and organizing your life right off the bat.
It's also good to know that this personal organizer features the undated monthly calendars; this is one thing that sets it apart from other planners on the market. Essentially, you can be sure of using it even when the year is over! What's more, Cossac Planner has a monthly and weekly goal section. You'll also find "Aim for Today" pages which you can use to record your schedules, daily priorities, notes, tasks, and ideas. The planner also has a section for notes, daily check boxes, and mindmaps. And to make things better, this option is designed with 100gsm premium quality paper that doesn't bleed through — what more could you ask for?
Organization junkies will also be happy to hear that the front cover of this monthly planner is amazing. Besides being sturdy, the cover comes with a security elastic strap that you can use to keep notes inside of the planner. Moreover, the back cover features a cute pocket that's sure to come in handy for storing notes or receipts that are likely to fall out and get lost. To sum it up, the Cossac Planner comes with a no-hassle money back guarantee, so you can be sure of getting the best value for money. All in all, it's one of the best daily planners for busy people looking to get organized and stay focused all day every day. And we would definitely recommend it as a great personal professional planner.
Pros
High-quality paper
Well-designed monthly layouts
Cons
Not enough room for your notes and to-do lists
Product details
| Number of pages | Paper weight | Cover type | Size |
| --- | --- | --- | --- |
| 256 | 100 gsm | Hardcover | 5.7" x 8.3" |
Slice Planner
Editor's choice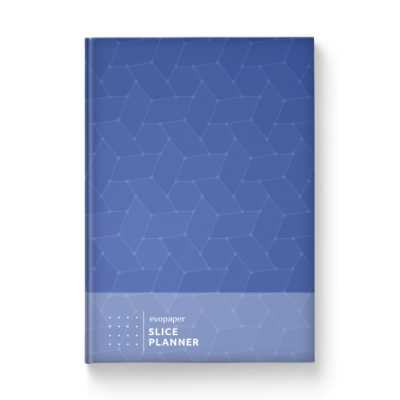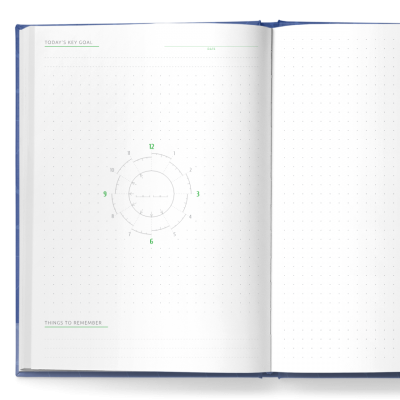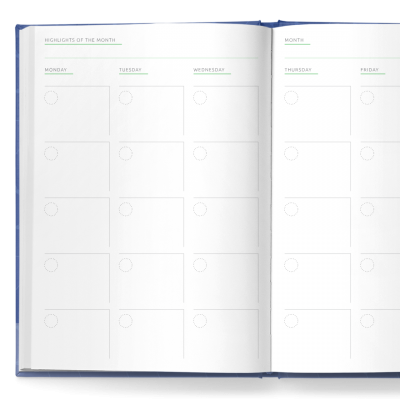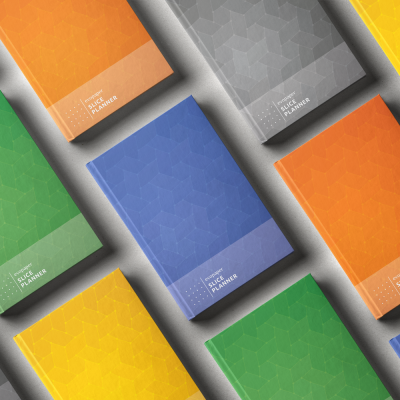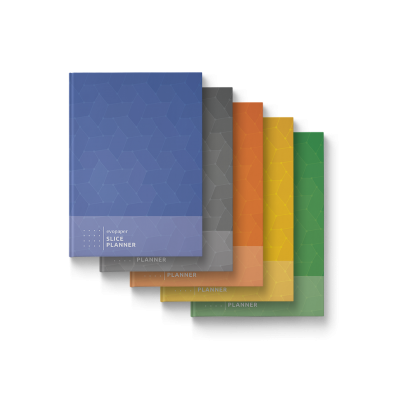 Ever struggled to quickly estimate the workload looking at your schedule or to do list?
Slice Planner was designed to make this as easy as possible by visualizing the schedule with the pre-printed clock wheel diagram.
The planner offers an unconventional approach to daily planning, beautiful design and durable first-class materials - all you need to enjoy everyday planning and note-taking.
The pages are made of thick 100gsm paper that doesn't bleed through. The pages also feature dot grid pattern that you can use to blend this system with bullet journaling too.
Pros
Free mobile app
High-quality materials
Great value for money
Product details
| Number of pages | Paper weight | Cover type | Size |
| --- | --- | --- | --- |
| 207 | 80 gsm | Hardcover | 5.5'' x 8'' |
Action Day Planner
Still looking for something good enough to hone your time management skills in the new year? Regardless of whether you're a student, entrepreneur or stay-at-home mom, the Action Day Planner is an excellent choice that's sure to get the job done. This day planner is a must-have if you feel like phone apps and online calendars don't cut it — it can help you tackle even the most giant of tasks. For starters, the planner has sections for everything including to-do lists, appointments, goals, delegation, and teamwork. It's also good to know that you can choose to use the columns for your personal categories — there's enough room to write whatever you want.
It's also good to know that the planner comes with 100gsm acid-free paper, so of course, you can worry less about bleed through or impressions. What's more, the first 16 pages of the planner contain motivational ideas as well as some suggestions for use. Its high-quality cover is also a big plus, and the size is just perfect — big enough to see yet compact enough store away. The spiral binding of this daily planner is pretty impressive; it allows the book to lay flat on your desk when writing and that's great. The Action Day Planner also has an elastic loop for your pen coupled with a strap to keep it closed. Overall, an excellent easy to use planner that really helps you keep all the important notes in one place and stay organized.
Pros
Very functional
There is everything you need to keep your notes and thought organized
Cons
The quality of the materials used is quite low
Too many objects are 
Product details
| Number of pages | Paper weight | Cover type | Size |
| --- | --- | --- | --- |
| 196 | 100gsm | Hardcover | 6х8 inches |
Lemome Planner
This is yet another premium quality personal planner that has a lot of things going for it. For starters, the Lemome Planner comes with up to 180 pages of 125 gsm quality paper that can work with a variety of pens — no need to worry about bleed through or ghosting. This well-made and practical bullet journal is pretty easy to use, and of course, you can use it to pen down your ideas and plan ahead.
Another great thing about this planner is its cover — it's pretty different from you find around. For the most part, Lemome planner features an eye-catching light brown cover that's made of faux leather. What's more, there's a pretty nice and secure band that wraps around to keep the planner closed. You'll also find a pocket in the back that comes with up to 6 sticker tabs and a "thank you" card. The pen loop is also a big plus!
Pros
Comes with different types of pages - blank, ruled, dotted
Beautiful design
Product details
| Number of pages | Paper weight | Cover type | Size |
| --- | --- | --- | --- |
| 180 | 125 gsm | Hardcover | 8.4 x 5.7 inches |
Blue Sky 2021 Weekly & Monthly Planner
Next up is this affordable option that's designed to make organization a cinch. The Blue Sky Planner is perhaps one of the best 2020 calendars and planners you can get right now. This option comes with both weekly and monthly views, and the tab markers make it incredibly easy to flip to the correct month. For the most part, Blue Sky Planner comes with up to 12 months of both monthly and weekly pages — this makes it incredibly easy to plan your life throughout the year. What's more, the planner comes with six bonus monthly pages; this is a pretty good addition.
It's good to know that the planner has just enough space to write in both the weekly and monthly areas, and you'll also find several multiple notes pages that are sure to come in handy. Lest we forget, this monthly planner is printed with premium quality, acid-free recycled paper, and its outer covering is sure to last a long time — the durable plastic-like surface is up to the task. Overall, we'll recommend this personal weekly planner to anyone looking for a little more organization in their lives; it's totally worth the money.
Pros
Available in different sizes
Has both monthly and weekly pages
Product details
| Number of pages | Paper weight | Cover type | Size |
| --- | --- | --- | --- |
| 196 | 80 gsm | Hardcover | 8.5 x 11 inches |
2021-2022 Delane Academic Planner
How about taking a shot at this classy looking option from Delane? It's yet another amazing monthly planner that comes with just enough room to write notes for each day. This easy to use personal planner makes provision for 18 months planning — JAN 2021 - JUN 2022. There's also a 6-month overview on each month page. One good thing about this product is that it doesn't come with irrelevant sections — you'll only find the perfect calendar and ample space to organize your life. What's more, Delane Planner comes with a lay-flat design that you're sure to love.
And as you probably guessed, this personal planner comes with acid-free high-quality paper — it resists ink bleed and of course, makes writing a breeze. Moreover, this option is designed with a nice and sturdy black poly cover that fits anywhere and everywhere. That's not all — the company also hits you with a money-back guarantee and that, of course, is great for peace of mind. Don't hesitate to get yours now!
Pros
Simple and intuitive
Durable poly cover
Cons
The quality is not outstanding
The design is too simple
Product details
| Number of pages | Paper weight | Cover type | Size |
| --- | --- | --- | --- |
| 196 | 90 gsm | Hardcover | 8.5 x 11 inches |
Conclusion
And that's it! These are five of the best personal planners and calendars you can use to take charge of your life and busy schedules in 2022 and beyond. Now, it's up to you to pick the one that's sure to work for you. Stay organized!