The 6 Best Study Planners For Students For 2023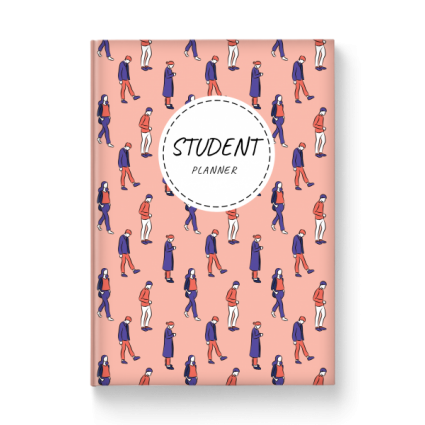 What's your primary goal as a student? To attend classes, do assignments, hang out with friends? Well, regardless of whether you're in college or high school, your goal right now is to study! But let's face it; there are just too many things to do most of which can be incredibly overwhelming. And of course, failure to accomplish your study goals and responsibilities will only hurt your academic life and that's terrible.
At this point of your life, you need something that can help you focus and stay on top of things or better yet a tool that can help you keep track of your activities and manage time effectively. So what could this be? Well, you need the best study planner money can buy!
For the most part, a study planner increases your chances of being able to break down your big goals and at the same time, figure out how to complete every one of them, and execute your study plan easily. What's more, you'll get to stay on top class schedule, assignments and even extracurricular activities — your academic year will be perfect!
As a high school or college student, you should be aware that not all study planners are created equal. That said, it's in your interest to do your homework before purchasing or better still, rely on a trusted resource to learn more about the best options available right now. Take time to explore the study planners and decide which one can help you achieve your goals.
Interested in the latter? If yes, be sure to join us as we explore our top 5 picks of the best study planners for students.
Custom Built Student Planner

Looking for a planner that would help you master your time and become more organized with your studies?
The Student Planner by OnPlanners can be your best choice as it offers outstanding quality and well-though-our content aimed at helping you achieve your best results easily.
The planner has a compact size (5.5x8'') and offers great pages including monthly and weekly spreads where you can plan everything in advance and keep track of everything easily. Also you can plan the projects you working on with the project task tracker and project summary pages.
Overall, the planner provides great value for its price and looks good that is not less important aspect too.
Pros
You can choose the cover design and dates of the planner
Thick paper
Made of durable materials that will last
Product details
| Number of pages | Paper weight | Cover type | Size |
| --- | --- | --- | --- |
| 226 | 100 gsm | Hardcover | 5.5'' x 8'' |
High School Student Planner
As the name suggests, this functional planner from Global Date Books is everything you need and more. It's a great pick for high school or middle school students looking to get started with their journey of being organized all day every day. For the most part, the study planner is designed to help students plan their daily schedule, hone their study skills and most importantly, stay on top of time management. It's good to point out that this dated planner comes with a lot of room to write down assignments — you'll find one column per day with also a space for seven subjects. And the good thing is, you can write the subjects in order of class periods.
You'll also be glad to know that the first 35 pages of this planner are both informative and educational — they teach study skills and goal setting both of which are important to your academic life. It's also good to know that this planner has handy sections on Math, Geography  Science, English and Social Studies; all these are great and of course, sure to work great as a guide for useful resource information. Its weekly study tips, note-taking and goal setting are also an excellent touch. The Put an End to Bullying Section is also a great plus. All in all, this product is highly recommended for every college student out there, totally worth every penny!
Pros
Highly functional

Great layout

Easy to use

Compact and convenient
Cons
Cover could have been a bit thicker
Product details
| Number of pages | Paper weight | Cover type | Size |
| --- | --- | --- | --- |
| 192 | 90 gsm | Hardcover | 5.5'' x 8.5'' |
Lemome Academic Monthly & Weekly Planner
The Lemome Academic planner is yet another cute and crisp planner that's perfect for you and other like-minded organization junkies. It comes with monthly and weekly view sections that give you the opportunity to customize information the way you want. What's more, this study planner has space for your to-do lists of the tasks you need to get done plus up to 58 pages for notes. It's also good to point out that this Lemome Academic Monthly & Weekly Planner is undated. In essence, you can start it whenever you please and of course, you can save it for next year — just perfect!
For the most part, this study planner comes with up to 192 pages of 120gsm quality cream pages. That said, you can rest easy knowing that it's sure to last long and of course, do exactly what it's meant to — help you stay organized. It's also good to point out that the cover of this planner is sturdy and well able to protect it from the elements. That's not all — the planner also comes 6 side pockets and a zipper pocket which you can use to store cards, a pen, miscellaneous papers and the likes. It also has some nice pictures and inspirational quotes that are sure to come in handy. Overall, this book is a well-designed option, if you want the job to get done — a great monthly and weekly planner for the money.
Pros
Well-designed

Made with excellent quality materials

Durable

Good size
Cons
Not enough pages in each month.
Product details
| Number of pages | Paper weight | Cover type | Size |
| --- | --- | --- | --- |
| 192 | 120 gsm | Hardcover | 5.75" x 8.25" |
Elementary Student Planner
Looking to get a study planner for kids in elementary school? Maybe you want them to start taking responsibility for their study and daily schedule?  If so, you'll be happy to hear that the Elementary Student Planner is a great pick for you!
This planner comes with a simple and colorful design that kids are sure to love. What's more, it makes it possible for younger students to take responsibility of their activities and of course, know exactly where to pick up the following day.
The dated weekly format calendar allows students to write assignments and work towards rounding them up in the quickest possible time. It's also good to point out that the planner has a section that reminds students to acknowledge their achievements and that's huge. The planner's laminated cover is also great — it's a sturdy addition that ensures the book last longer than expected. The resource pages for English, math, social studies and geography are also a welcomed touch. All in all, a simple yet functional study planner that's perfect for elementary school kids.
Pros
Beautiful design

Enough space to write

Easy to use

Sturdy and well-made
Product details
| Number of pages | Paper weight | Cover type | Size |
| --- | --- | --- | --- |
| 192 | 90 gsm | Hardcover | 8.5" x 11" |
The Work-Smart Academic Planner
Here's another premium quality study planner that looks to help students stay on track with their study schedule and stay on top of time management. First off, the Work-Smart Academic Planner comes from skills expert Peg Dawson and Richard Guare, and of course, their goal is to give students an all-in-one resource to hone their study skills and prepare them to succeed in school and beyond.
The Work-Smart Academic Planner is sure to be your best regardless of whether you need something to write to-do lists, assignments or due dates. With this premium quality undated study planner, you'll get to have an organized time table, get familiar with study strategies and of course, create study plan.
The study planner urges students to look within, find their professional weakness and work towards profiting from their strengths. It's also good to know that the planner features a reference calendar that runs through July 2023. The tip sheet is also a big plus that most students find very helpful. Overall, a great tool to develop your innate study skills — highly recommend!
Pros
Good layout

Sturdy and well-made

Very practical

Teaches strategies for personal self-management.
Product details
| Number of pages | Paper weight | Cover type | Size |
| --- | --- | --- | --- |
| 136 | 90 gsm | Hardcover | 5.5'' x 3.5'' |
Blue Sky 2023-2024 Academic
Last but least is this stylish planner that designed to help you stay on top things throughout the year. Blue Sky Study Planner is a great pick for busy students as well as those looking to keep track of important appointments; there's more than enough space to write notes, to-do lists, important dates, assignments and everything in between.
For the most part, as a year planner, Blue Sky boasts 12 months of weekly and monthly pages for super easy year-round planning — just perfect for your academic year. It's also good to point out that the content of this study planner is printed on premium quality white paper and the cover is super attractive. That's not all — the cover also has pockets for important notes, cards, pictures and more!
Pros
Attractive design
Come with handy pockets
Each page also has extra room to write notes
Product details
| Number of pages | Paper weight | Cover type | Size |
| --- | --- | --- | --- |
| 192 | 90 gsm | Hardcover | 8.5'' x 11'' |
Conclusion
It's important for every student to be able to manage their time efficiently, so there are no problems with striking a balance between studying and having fun. The good news is there are great tools to help plan your life and be a great student while still enjoying the time of your life.
So what do think about our top picks? Do you think you already know which planner is the right planner for you? Are you good with the first, fifth or the ones in between?
Whatever the case may be, each study planners on the list is sure to increase your chances of being more organized in 2023 and beyond, because these planners help you structure your day or week and make the most of your time. Good luck!