6 Cool Planners to Help You Manage Your Busy Life in 2022-2023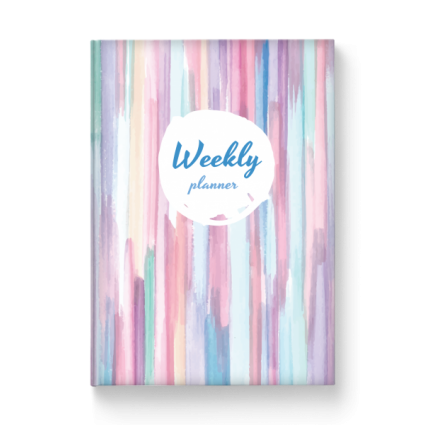 Staying organized and getting things done are not mere phrases anymore. In 2022, it's obligatory to be productive if you want to achieve massive wins and become successful.
However, it's almost impossible to achieve utmost efficiency without any productivity tools designed to facilitate the daily planning and time management routine.
Some people enjoy using the advanced digital tools, calendar apps like iCal or Google calendar that keep you up to date and remind about the upcoming events every day.
Meanwhile, other people still enjoy the paper planners that provide more flexibility and allow you to jot down things using old-fashioned pen and paper. Unlike any calendar app, a paper planner is all about personalization – you can organize your notes and plans in your own manner and manage your notes just the way you want to.
Contrary to the popular belief, the physical planners are not dead despite a great technological advancement. Especially, if you are someone who has robust habits of keeping a journal and writing things down the old way.
The widespread adoption of iOS and Android productivity apps doesn't mean the physical planners can't provide enough opportunities to help you get organized.
So here are 6 best monthly weekly and daily planners that will help you stay organized and be productive in 2022-2023:
Custom Built Weekly Planner

Need a productivity tool that would help you manage your busy life easily? Meet Custom Build Weekly planner that is made to help you do just that.
It has a great set of productivity-driven pages and offers wonderful quality that will make you enjoy using a planner every single day.
The Weekly Planner has a hardcover design and is made of high-quality Swedish paper that's thick enough to work well with any kind of pens and highlighters and durable cover that's build to last.
Overall, great planner for weekly planning and getting things done.
Pros
You can choose the cover design and dates of the planner
Thick paper
Made of durable materials that will last
Product details
| Number of pages | Paper weight | Cover type | Size |
| --- | --- | --- | --- |
| 146 | 100 gsm | Hardcover | 5.5" X 8" |
Passion Planner
This is definitely one of the most successful planners that were born on Kickstarter. Over the last 7 years, thousands of backers and customers have employed the Passion Planner to manage their tasks on a daily basis, And it's no wonder why.
The planner has everything you need to stay on track with what matters most. The elegant and minimalistic design makes it stand out from the crowd and make thousands of people really like this product. Besides, it's made of high-quality thick paper that is not likely to bleed through. If you like day-to-day planning and goal setting this Planner would be a great choice for you.
Each planner includes monthly and weekly layouts as well as the sections for monthly reflection and blank pages where you can sketch, draw and make notes.
Pros
Many different layouts in one notebook
Various applications
Cons
Filling out all the sections in the planner may be quite time-consuming
Some users complain about very small fields for writing in the notebook
Product details
| Number of pages | Paper weight | Cover type | Size |
| --- | --- | --- | --- |
| 256 | 120 gsm | Hardcover | 6.9" x 9.8'' |
Slice Planner
Editor's choice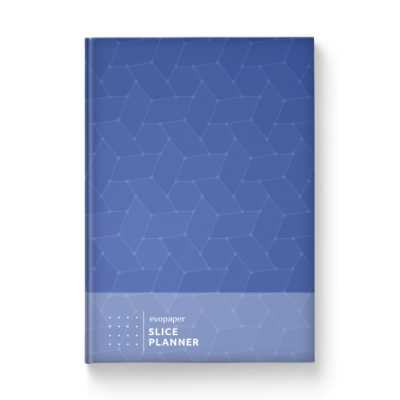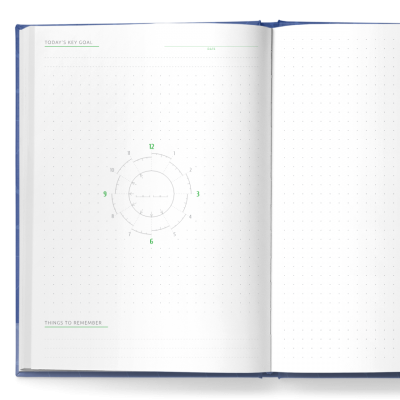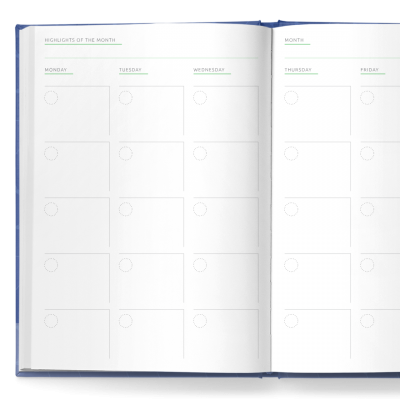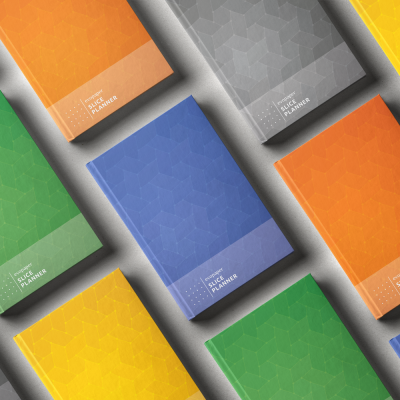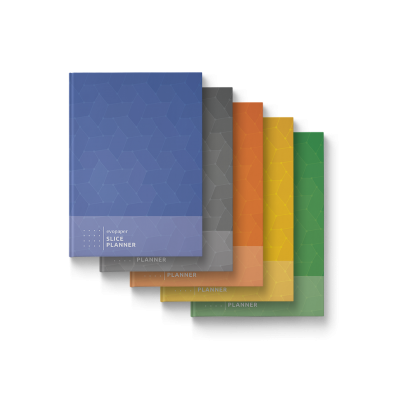 One more cool notebook is Slice Planner.
This notebook has a few powerful features and is definitely one of the best planners in the market today. Slice Planner offers an unusual yet efficient approach to planning that the visuals thinkers will especially appreciate. The wheel diagram that is reminiscent of the classic clockface allows you to create events and plan your day visually. Besides, each daily spread has two pages: one for planning and another one with lots of space that you can use to jot down what's on your mind and make notes.
Speaking of the design, this is probably one of the most beautiful ring bound notebooks in the market. Super elegant and minimalist planner makes you fall in love with it from the very first day of using it.
The cover features durable and good-looking bookcloth. The pages are made of thick paper 100 gsm that works well with the majority of pens and doesn't bleed through. Overall, the quality is top notch. 
Last but not least, the Slice Planner comes with the free mobile app that helps you sync your schedule in the planner with the calendar events in your iPhone or Android smartphone.
Pros
Free mobile app
High-quality materials
Great value for money
Product details
| Number of pages | Paper weight | Cover type | Size |
| --- | --- | --- | --- |
| 207 | 80 gsm | Hardcover | 5.5'' x 8'' |
Panda Planner
Being one of the most popular planners on Amazon, this notebook deserves its place on the list. Nonetheless, its quality proves doubtful. While comparing this product to the similar ones that are sold for the same price, it's likely to lose the competition when it comes to the materials used to design Panda Planner.
Anyway, this planner has all you need to stay on track with your personal work and keep up the momentum with what matters most. It's also more like a life planner where you can reflect on your wins and losses and deeply analyze your life.
The Panda Planner system designed to help you strike a work-life balance, cultivate the right habits and live the life the way you want.
Cons
Some customers claim they don't actually use all the sections available in the planner because some of them don't make too much sense. 
Product details
| Paper weight | Cover type | Size |
| --- | --- | --- |
| 90 gsm | Hardcover | 5'' x 8.2'' |
The full focus planner
One of the most influential blogger and speaker in the field of leadership and motivation, Michael Hyatt, has recently presented a brand new daily planner. It's worth saying that it's based on the most advanced and proven time management and productivity tactics. Its approach goes far beyond a classic to-do list. It actually makes you organize your day in a proper way. It's equipped with the daily pages and sections where you can reflect on your day. The layouts welcome you to adopt some great approaches to planning and getting things done.
It's worth mentioning that the planner's intuitive layout makes it easy to use its major features and make the most of the core idea of the Full Focus Planner. Besides the prioritized to-do lists it provides some space dedicated to the goal templates that make sure you never lose sight of your big picture ambitions. Write down your goals, your motivations for achieving them, practical next steps, and how you'll reward yourself once you've reached them.
Most customers notice a significant increase in productivity in the long run. Perfect for business owners and productivity aficionados.
Pros
Science-backed approaches to planning

Minimalistic design
Cons
Too strict layout

No room for personalization
Product details
| Paper weight | Number of pages | Cover type | Size |
| --- | --- | --- | --- |
| 90 gsm | 256 | Hardcover | 9.25'' x 6.25'' |
Volt Planner
This is another planner made on Kickstarter. Its simplicity instantly made it popular with the people who prefer physical planners to digital calendars. It has a few different layouts that help you stay organized throughout the day, week and even month. Besides, there is enough room for those who like to reflect on their wins and losses.
The planner is made of durable white paper that proves pretty thick so you don't need to worry about feathering and ghosting. Besides, each planner has a bookmark that makes it easy to get a quick access to the desired page.
Volt Planner is the newer version of the Spark Planner that has also been a very nice tool for keeping track of your life. Since the Spark Planner was created, the creators did also add a few small features based on the valuable feedback from the early adopters.
Pros
Beautiful minimalistic design
Cons
It's sort of a weekly planner – not perfect if you prefer daily planning. 
Product details
| Paper weight | Number of pages | Cover type | Size |
| --- | --- | --- | --- |
| 90 gsm | 280 | Hardcover | 8.5'' x 6'' |
Conclusion
The mobile apps provide a lot of flexibility and make sure you are synced across all your digital devices and can store all your notes in one place. However, some people like using planners because they can be easily personalized and the physical act of writing actually adds importance to your notes.
Speaking of the planners, it seems that yearly and monthly planners become more and more obsolete. Meanwhile, the day planners are hitting the stage. It's difficult to say which one is the best because each planner includes some sort of uniqueness that makes it be worth trying. Moreover, well-designed planners can beat even the best calendar apps in the market.
If you are a huge fan of paper planners, why wouldn't you use one of them and then switch to another one just to see which one fits you best and helps stick with your new year resolutions?