6 Best Cheap Planners to Buy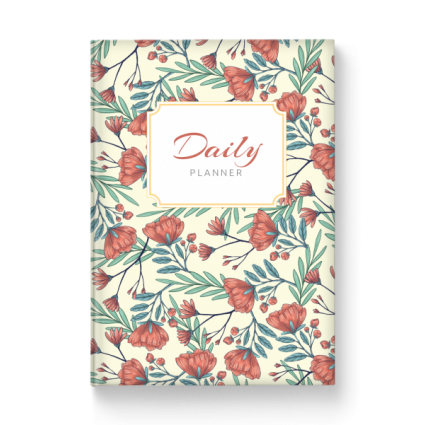 Do you sometimes find the range of planners, journals and diaries on the market overwhelming? Not to mention pretty expensive at times. You are faced with so many choices when searching for the perfect planner There are daily, weekly, monthly and year planners and so many different layouts. Often, planners are very specific; designed for professional use, planners for students, passion planners or planners for bullet journaling and may not be ideal for simple day-day management of our busy lives.
We all need somewhere to schedule our appointments, but we don't all want to make a hobby of it, spending more time planning that doing! We've come up with a selection of 5 of the best cheap planners that have all the key features most of us look for in a planner without any unnecessary extras getting in your way!
Custom Built Daily Planner

Despite being super cheap, this planner offers incredible value its price.
The Custom Built Daily planner comes with the super convenient pages full of great layouts and spacious sections for your daily schedule, to do lists, reminders etc.
The planner is made of high-quality paper that prevent bleeding through and ghosting. You will also enjoy a sturdy spiral and durable cover that will make sure your planner lasts until the very moment it runs out of pages.
To sum up, consider this planner if you're ready to pay a little extra for the great quality and functionality.
Pros
You can choose the cover design and dates of the planner
Thick paper
Made of durable materials that will last
Product details
| Number of pages | Paper weight | Cover type | Size |
| --- | --- | --- | --- |
| 210 | 100 gsm | Hardcover | 5.5" X 8" |
AT-A-GLANCE 2021-2022 Monthly Planner
Top of the list of the best-value planners on the market is this handy pocket-sized planner. At only 3 ½ X 6 inches, it is smaller than most – probably not much bigger than your Smartphone, so you can easily carry it around in your pocket or handbag. Don't be fooled by its size though, as it manages to fit in everything you would expect from a larger planner, with a monthly block spread over two pages and daily squares big enough to jot down 2-3 appointments. Amazingly, this little gem also squeezes in a notes pages as well as a phone and address section too. The best feature by far about the AT-A-GLANCE is that this planner offers a 2-year format. If you are some-one who likes to be ultra-organized, you can schedule plans, meetings and vacations for the coming year. You'll never miss an appointment again!
Pros
2-year version
Handy pocket size
High-quality paper
Cons
Not suited for detailed planning
Only available in black
Product details
| Paper weight | Cover type | Size |
| --- | --- | --- |
| 90 gsm | Softcover | 3-1/2" x 6" |
Lemome Weekly & Monthly Planner
Want a cheap planner that looks like an expensive planner? Then this could be the option for you. Its soft faux-leather cover in a natural gray looks like real leather and is as stylish as it is durable, as well as being eco-friendly. Like more high-end versions, it has a pen holder, and elastic closure band, 2 ribbons to use as book-marks or place-holders and a useful inner pocket.
Inside, it provides monthly and weekly overviews, both over double pages so that you can keep track of your long-term management while giving plenty of space for your weekly and daily to dos.
We also found the calendar stickers were a nice touch and the planner doubles as a notebook with an ample note section of 48 pages at the back. If you want something that has good quality and functionality at an affordable price, this is the planner to buy.
Pros
Elegant design
Weekly and monthly overviews
Calendar stickers
Cons
Cover could be harder
Paper not super thick
Product details
| Number of pages | Paper weight | Cover type | Size |
| --- | --- | --- | --- |
| 222 | 100 gsm | Hardcover | 5"x 8" |
Bloom Daily Planner
Next up, this beautifully covered planner is more than just a pretty face. If you like a good-looking planner, this is a great option with arty covers in a variety of innovative designs and color patterns, with fun slogans to boot. The Bloom is trendy and modern and comes with so many supplementary resources, some of which are really unique.
It has pages for addresses, phone numbers and website logins, important dates for the following year and weekly scheduling tables so that you know exactly where you're at. The more fun resources include quirky templates for goal setting, vision boards, questions to help you reflect on the previous month and reasons to party lists! It's like having a mini bullet journal in the front of your regular planner. We highly recommend this cute and creative planner if you are someone who likes to be playful with your planning.
Pros
Pretty designs
Fun resources
Templates
Cons
No back pocket
No elastic closure
Product details
| Paper weight | Cover type |
| --- | --- |
| 100gsm | Softcover |
Blue Sky 2021 Weekly & Monthly Planner
Let's go back to basics now with the Blue Sky planner 2020, a great all-rounder if you want a personal planner with no gimmics, just everything you need to plan your work, study or recreational activities.
The planner comes with separate full monthly and weekly view pages and a helpful section for making long-term plans using a reference calendar for the previous and coming month. The cover has an appealing design and is laminated, keeping it safe from slips and spills. Spiral twin binding makes it easy to write in and ensures it lies flat. It also has the helpful feature of plastic tabs for each month, making it easy to find your place and get to the information you need quickly. It is a larger size than the pocket planners, perfect for those with lots going on in their life that they need to keep track of!
Pros
Larger size
Laminated
Lies flat
Cons
Plastic monthly tabs
No plastic pocket
Product details
| Paper weight | Cover type | Size |
| --- | --- | --- |
| 90 gsm | Softcover | 5" x 8" |
2021 Do It All Planner
If you're wondering if the Do It All Planner really does it all, the answer is YES! So, what does it do? I hear you ask. Well, for starters, it covers 17 months which is rare and makes a lot of sense as there is often that awkward gap between yearly planners. As well as the nicely spaced monthly and weekly spreads, it offers a variety of extra features and resources. It comes with a pocket for your receipts, notes etc., as well as elastic closure so they don't get lost, and there is a tear off section so that you can take to-do lists or shopping lists with you without taking the whole planner.
If all that isn't enough, it comes with 300 stickers in the emoji style to accessorize your notes, appealing to the big kids among us! And now for our favorite feature, every week begins with an inspirational quote to kick-start your Monday morning before you make your to-do list. We love this one!
Pros
300 stickers
Tear-off papers
Weekly quotes
Cons
No monthly summary
Only one design option
Product details
| Cover type | Size |
| --- | --- |
| Hardcover | 5.75" x 8.25" |
Conclusion
We hope you have found what you were looking for in your new planner with our top 5 picks for bargain planners. Planning should be a tool to make your life easier and with these simple planners, you'll find that you don't have to store so much information in your head, allowing you to relax.
A simple planner with a monthly and weekly view can be used for all sorts of purposes. The planners featured in these reviews are ideal for keeping track of household tasks, children's activities, appointments with friends, doctors, dentists, hairdressers…our lives are so busy these days, they will be full before you know it. Ever had that feeling where you think you've forgotten something but you're just not sure what?! Getting everything down on paper in one place is a great way to reassure yourself you are on top of things. With our 5 tried and tested no frills planners at great prices, you can do just that.